2021 Animal & Pet Holidays Calendar & Planner
+ Daily Holiday
Social Media Marketing Toolkit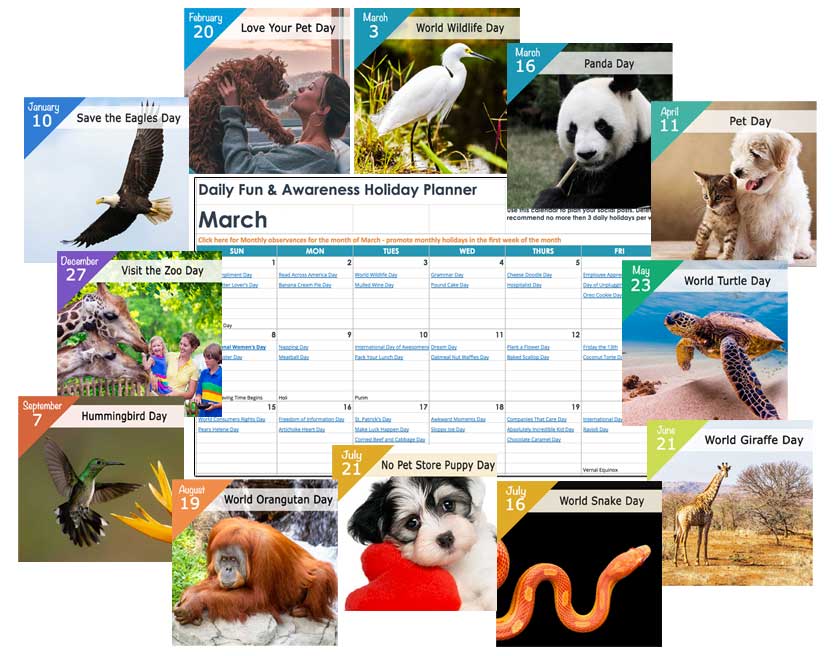 Who doesn't love celebrating their favorite animals and their adorable pets!
Don't miss out on your social posts by missing your favorite pet holiday.
Our Animal & Pet Holidays Calendar with Social Media Planner will have you ahead of the pack.
Internationally loved pet holidays are fun and what people love to talk about and share.
Increase engagement 2-10 times!
Quick and easy reference that will save you a ton of time!  
Instant Download and Access to Holiday Marketing Toolkit + Animal & Pet Holiday Calendar/Planner
Save hours every week for only $6 (only $3) per month
What's Included in the 2021 Animal & Pet Holidays
Calendar & Planner + Daily Holiday
Social Media Marketing Toolkit
As holiday experts, we provide the most comprehensive holiday information you won't find anywhere else
365 days of social media post holiday ideas planned out for you! Including:
Daily Animal & Pet holiday social media post ideas. Don't miss your favorite Days!
Holidays with trending hashtags and tips to increase your social media engagement, expand your reach and save hours of time.
Tips to choose and customize the best holidays for sharing for your business.
Insights on what and when to post
Prompts, questions and ideas to create more engaging posts
Prompts for Instagram posts and stories, Facebook, Twitter, Pinterest and Linkedin
Holidays create more engagement on social media providing amazing results
Turn your marketing strategy into real engagement with our tips for integrating holidays into your brand
Post your favorite animal and pet holidays with proven-to-work hashtags
Increases visibility and expands your reach
More comments, likes and followers
Being selective and choosing the fun holidays that your demographic will respond to keeps your followers engaged and active
Holidays unite people and social posts using holidays create a connection with your followers bring more brand loyalty
Show your love of Animals & Pets and don't miss a daily fun and awareness holiday featuring wildlife and pets. 
Instant Download and Access
Save hours every week

Comprehensive list of 1000+ daily holidays and observances
Animal & Pet Holidays Calendar Planner with fun & awareness days to celebrate and post about. 
Calendar that includes all daily fun & awareness holidays so you can mix it up.
Calendar includes official holidays in the U.S. and other populated countries.
Calendar includes the major religious holidays celebrated worldwide
We are the original online source for daily fun holidays and we have the insights and the most complete and comprehensive list of days for you to choose from.
We are the source that agencies go to for their content calendars.
We keep up with the trends and share with you to save you time.
Most common holidays are emphasized to help you choose the days that will get your followers reacting.
International Appeal
International Planner includes top National Bank holidays and some popular holidays from the worlds most populous countries plus all of the most common religious holidays.

Daily Fun and Awareness Days that are meant to be shared internationally!
These holidays can be included in your social media posts from almost any country.
Easily translated to 60+ languages
Fun Holiday hashtags trend worldwide and boost your social media globally.
Included in the Calendar + Toolkit
2021 Animal & Pet Holidays Calendar & Planner

 

with all of the proven to increase engagement fun and awareness animal holidays. Available in 3 versions: Editable google sheet, editable excel sheet, printable pdf
2021 Holiday Fun & Awareness Days Calendar

 

with comprehensive listings of 1000+ daily fun & awareness days on multiple topics so you can mix it up with more fun stuff.
2021 Daily Holiday Social Media Hashtag Cheat Sheet

 

with a complete comprehensive list of daily fun & awareness days with hashtags and prompts (questions, quotes, and ideas). Never be stuck on what to post! Pick and choose and have fun! Includes all the Daily Animal & Pet Holidays + other topics for 1000+ daily holidays to choose from. Available in Printable PDF. Easy copy and paste any hashtag that fits your brand to your Content Planner
Bonus Printables: Social Media Planner sheets by year, month & week, 39 Holiday Post ideas, 70 Holiday Questions & Polls, Integrating Holidays into your Social Media Marketing Worksheet, and Social Media Holiday Last Minute Post Ideas.
Plus Monthly Newsletter to keep you updated on Holiday Trends and tips for implementing into your marketing strategy and social media sites.
Why buy the 2021 Animal & Pet Holiday Calendar with Holiday Marketing Toolkit?
HolidaySmart is the holiday experts and have been creating and adding daily fun, awareness and notable holidays for 20 years. HolidaySmart is the source that agencies and bloggers come to to find holiday information. 
We know what works and what doesn't. Holidays are our passion and our marketing team focuses on Holidays & Observances worldwide. We recommend holidays that are proven to work and grow engagement while also providing you with the most comprehensive list to promote more unique holidays and to change things up.
This Animal & Pet Holiday Calendar & Planner + Holiday Marketing Toolkit with Calendar, Planner & Cheatsheet and 1000's of daily fun & awareness holidays to choose from is a must have guide to save tons of hours for everyone who manages social media content and marketing. Never miss another engagement opportunity for a trending fun and awareness holiday and keep your favorite Animal & Pet Holidays at your fingertips. 
A Value of over $1,000 saving you hours of time searching for something to post and coming up with ideas to post on your social media. We've done the research and prompts for you making it easy for you to create engagement with the most popular holidays. 
Never get stuck on what to post on social media again
Instant Download and Access
Save hours every week for only $3 per month

Marketing your business on social media just got a whole lot easier
1,000's of Daily Fun & Awareness Holidays with hashtags for social media posts and prompts to help you get more engagement with a focus on Animal & Pet Holidays.
Save a ton of time every single month.  We have done the research for you and we compiled our daily holiday listings into a complete holiday calendar toolkit that is ready for you to start planning.
Full 365 days of daily holidays with hashtags, prompts, tips and ideas, plus free downloads to help you plan out your week, month and year. And we update you in our monthly newsletter with holiday features and news so you stay on top of the holiday trends.
This is the social media holiday calendar you need to make your life easier and more fun! 
Holidays for all Business Types
Promoting with holidays creates a connection with your fans, followers and clients. Whatever field of business you are in, whether you are an organization, a solo entrepreneur, or managing the social media for a large corporation, we have tips and holidays that will fit into your social campaigns. With over 1,000 holidays throughout the year, you can be very selective choosing only the ones that fit your brand to create a unique experience that will get likes from your demographics. Perfect for Social Media and Marketing Agencies managing multiple clients. 
Double and Triple your likes and comments
Holidays unite people and create likability relating to your brand. Have fun with our list of days. Be selective. Use our tips and be creative to make the posts fit your voice and your brand. 
Save Tons of Time and Never Get Stuck on What to Post
Included Social Media Holiday Cheat Sheet is a comprehensive listing of all of the daily fun and awareness holidays with prompts (ideas, questions, quotes and more). Save yourself tons of time by  having a cheat sheet of holidays at your fingertips. Includes hashtags for easy copy and paste to your social media content calendar & planner. 
Instant Download and Access
Don't need the Holiday Marketing Toolkit with Calendar and Cheat Sheet and just want the Animals & Pets Calendar & Planner Set?
2021 Daily Fun & Awareness Animals & Pets Holidays Calendar & Planner
Available in 3 formats: PDF Calendar for printing and Google sheets + excel for Planning and editing to make social posts a breeze
DOES NOT INCLUDE: Toolkit with All Daily Holidays Calendar + Social media Cheat Sheet – Order the Holiday Marketing Toolkit above for only $36 to include these time-saving tools. 
Order just the Animal & Pets Calendar for only $15
Instant Download – Access
Quick Reference Calendar for your favorite Holidays for only $1.25 per month