2021 Animals & Pets Holiday Calendar + Planner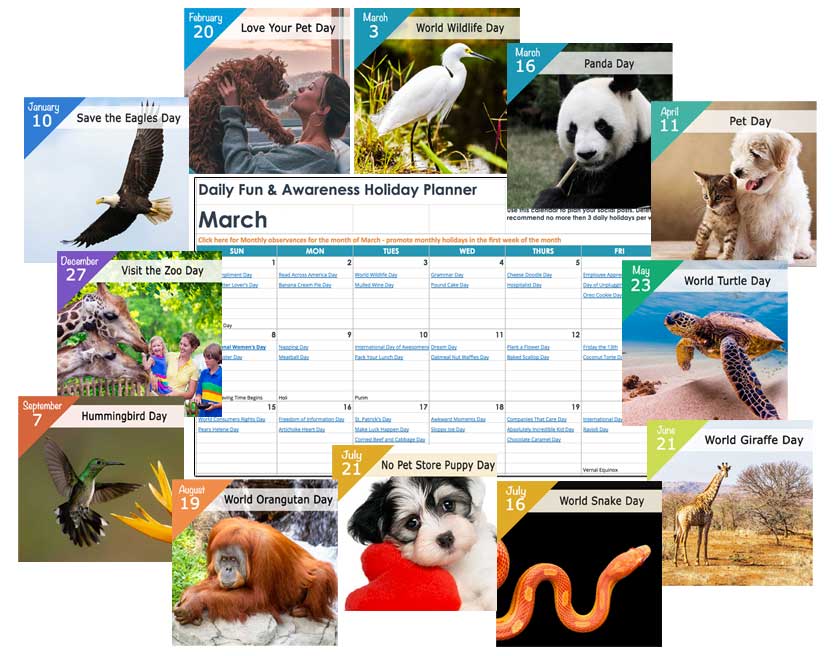 Animals & Pets
Calendar
$35


Special: now only $15
Instant Download – Access
Quick Reference Calendar for your favorite Holidays for only $1.25 per month
Daily Fun and Awareness Holidays that Celebrate Animals and Pets
Your favorite Animal & Pet Holidays in a quick and easy CALENDAR so you never miss another day that's important to you.
The 2021 Animals & Pets Holiday Calendar & Planner on top of what matters to you with holidays to increase your social media engagement, expand your reach, and save hours of time with, making it easy for you to share the love.
Now you can plan our your complete year of Animal & Pet awareness, appreciation and fun holidays on your social media with this easy to use PLANNER.
Internationally loved pet & wildlife holidays increase engagement 2-10 times and show your followers that you care.
Don't Miss Your Favorite Animal or Pet Day in 2021 – Download the Calendar/Planner Today
What's Included in the 2021 Animals & Pets Holiday Calendar + Planner
As holiday experts, we provide the most comprehensive holiday information you won't find anywhere else
Holidays create more engagement on social media providing amazing results
Quick calendar reference so you never miss the opportunity to post about your favorite earth holiday
Increases visibility and expands your reach
More comments, likes and followers
Fun and awareness holidays that your demographic will respond to keeps your followers engaged and active
Holidays unite people and social posts using holidays create a connection with your followers bring more brand loyalty
Show your love of your favorite pet or wildlife and don't miss a daily fun and awareness holiday that celebrates them.
International Appeal
Daily Fun and Awareness Days that are meant to be shared internationally!
These holidays can be included in your social media posts from almost any country.
Easily translated to 60+ languages
Comprehensive list of daily fun and awareness holidays that celebrate animals
Animals & Pets Holiday Calendar Planner with awareness and fun holidays
Includes pets, wildlife, awareness, protect, just for fun and more
Calendar includes official holidays in the U.S. and other populated countries.
Calendar includes the major religious holidays celebrated worldwide
We are the original online source for daily fun holidays and we have the insights and the most complete and comprehensive list of days for you to choose from.
We are the source that agencies go to for their content calendars.
We keep up with the trends and share with you to save you time.
Instant Download and Access

Animals & Pets Holidays Calendar + Planner Set Includes: 
2021 Animal & Pets Holiday Calendar in PDF format so you can easily print or keep on your desktop for easy access.
2021Animal & Pets Holiday Calendar Planner

 

with all of the proven to increase engagement fun and awareness holidays. Available in editable google sheet, editable excel sheet so you can have complete control over planning your year day by day. Add, remove, edit holidays, keep notes for social media planning and more with this easily editable planner.
Includes Daily and Monthly Fun & Awareness Holidays relating to Animal & Pets
Bonuses
Bonus Printables: Social Media Planner sheets by year, month & week, 39 Holiday Post ideas, 70 Holiday Questions & Polls, Integrating Holidays into your Social Media Marketing Worksheet, and Social Media Holiday Last Minute Post Ideas.
Plus Monthly Newsletter to keep you updated on Holiday Trends and tips for implementing into your marketing strategy and social media sites. We don't list affiliates, sell your information or use other sales tactics. We simply share the holidays that are coming to keep you updated on the trends. You can unsubscribe at any time.
Why buy the 2021 Animals & Pets Holidays Calendar & Planner
HolidaySmart is the holiday experts and have been creating and adding daily fun, awareness and notable holidays for 20 years. HolidaySmart is the source that agencies and bloggers come to to find holiday information. 
Holidays are our passion and our team focuses on Holidays & Observances worldwide with the most comprehensive list to promote more unique holidays and to change things up.
This Animals & Pets Holiday Planner & Calendar is a must have guide to save tons of hours for everyone who manages social media content and marketing. Never miss another engagement opportunity for a trending fun and awareness holiday.
Instant Download – Access
Quick Reference Calendar for your favorite Holidays for only $1.25 per month